After each mission, NASA Astronauts can personally nominate a person or contractor for outstanding performance, contributing to flight safety and mission success.
The award is a sterling silver Snoopy lapel pin that has flown on a Space Shuttle mission, plus a certificate of appreciation and commendation letter, both signed by the astronaut.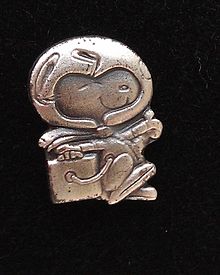 In 1970, the Apollo 13 mission had to abort its intended moon-landing and return to Earth after an explosion in an Oxygen tank. During the process of steering the ship back to Earth, the crews' Omega Speedmaster Professional watches were used for the crucial timing of a number of course corrections and the Silver Snoopy was awarded to Omega on the successful return of Apollo 13 to Earth.
On the 45th Anniversary of the Apollo 13 mission, Omega released the Speedmaster Moonwatch Anniversary Limited Edition with a host of references to the awarding of the Silver Snoopy and including the inscription 'What could you do in 14 seconds' (the time it took the crew to make one of the mid-course corrections before entering the earth's atmosphere).